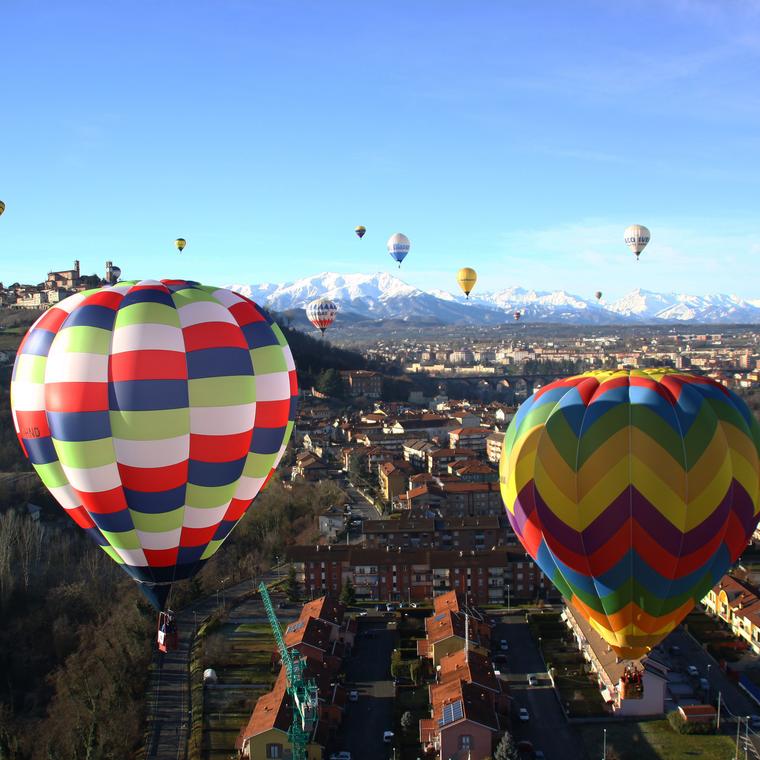 Day 1. Arrival and accommodation in the historical residence of the XIX century.
In the morning you have the visit of
Mondovì
on a hot-air balloon. You will be present at the hot-air balloons' assembly: your flight will be of one hour and a half and at the end you will be given a flight's certificate with toast and flight's inauguration. You will fly above Piazza, the original nucleus of the city, with its medieval monuments, like the Torre Civica, surrounded by Belvedere's gardens, the great and wonderful San Donato's Cathedral, and the beautiful Piazza Maggiore, framed by hills and mountains.
You will have lunch in a typical restaurant. During the afternoon, with the presence of a naturalist guide, you will walk through Napoleonic paths. There will be tasting at the tavern.
Dinner will be at the restaurant with amazing chef: you can choose different types of menus, and each one of them, has a different combination of wines.
Day 2.
During the morning, you will have a fight on a hot-air balloon above
Langhe
, at the discover of wonderful landscapes scattered by vineyards and plantations of fruit trees; the sweet hills will hang around with you till the meeting point in Neive.
Lunch in farm holiday; in the afternoon you will reach Tresio travelling by one of the 11 stages of the Strada Romantica delle Langhe and of the Roero.
There will be tasting at the tavern. You will have dinner at a typical restaurant.
an overnight in the historical residence
two flights on the hot-air balloon
tasting at the tavern
lunches and dinners as planned
The price does not include the transport, the local addictional tax, meals which are not indicated, extras and anything which is not specifically indicated by "the price includes".